Luzon Partner Universities Converged in Dagupan for 3rd Luzon Cluster Conference
The 3rd Luzon Cluster Conference and Data Turnover Ceremony was held on December 1-2, 2016 in Dagupan City, Pangasinan. Hosted by the Central Luzon State University's Institute for Climate Change and Environmental Management (CLSU-ICCEM), the event was attended by local government officials from Region 1.
The program started with an opening message from Department of Science and Technology (DOST) – Pangasinan Director Ms. Felicidad M. Gan. She noted that the DOST through the Advance Science and Training Institute (ASTI) and the Philippine Atmospheric, Geophysical and Astronomical Services Administration's (PAGASA) implements the Hydrometeorological Project which works closely with the PHILiDAR 1 to improve the government response in disaster preparedness. Through this project, thirteen (13) water level monitoring stations and twenty two (22) rain gauges were installed in the province of Pangasinan that would make the work of local government units (LGUs) and barangays easier in providing early warning systems during flooding events. Mr. Rhodyn Luchinvar O. Oro, Provincial Disaster Risk Reduction and Management Officer (PDRRMO) of Pangasinan delivered a message from Governor Amado Espino III. He noted that the maps to be distributed will be an important tool for local chief executives because the information it contains are very vital for decision making and management tool. He also emphasized the need for LGUs to invest in information technology because it is a tool that could integrate government processes in all its units. Using these tools should be the way forward for better governance, he added. Dagupan City Mayor Belen T. Fernandez also welcomed participants and expressed her gratitude to the PHIL LiDAR 1 program team for ensuring that accurate information is readily available. She highlighted that most difficult task of a mayor is not building infrastructures or implementing projects but saving lives during disasters. This task is impossible without data as Dagupan is often on the receiving end of flood water. Technology such as drones and LiDAR are now being utilized by the province to give a picture of how flooding occur and this knowledge would guide the local government on how to end such menace once and for all. She commended the program and said that she is very satisfied with its accuracy. She ended her message by enjoining her colleagues and constituents to support the Program and the DOST. PHIL LiDAR 1 program leader Dr. Enrico C. Paringit also delivered a message. He gave a brief overview of the program – its beginnings, uses and benefits. He highlighted the LiDAR products were intended to provide information to the government on how disasters may be reduced, however, it has other uses for planning, infrastructure development and emergency response. In line with the thrust of the government through the RA 10121 also known as the Philippine Disaster Risk Reduction and Management Act, the Program aims to we counter the effects of such phenomena. One of the key elements in planning is the spatial information available, he noted, adding that Cagayan de Oro province already uses LiDAR in their planning exercises and this practice is already being replicated in other areas. The LiDAR products can also for determining risk transfers as well. He encouraged the audience to not become scared of disasters but harness it to their advantage. This was followed by the map turnover ceremony where LGU PDRRMO and planning officers received flood hazard maps. Recipients from the municipalities of Urdaneta, Alaminos, Pozzobrubio and Asingan expressed their gratitude for the Program.
The afternoon session started with a presentation by CLSU PHIL-LiDAR 1 Project Leader Dr. Annie Paz-Alberto on Flood Contigency Coordination. She discussed the nature and classification of floods, statistics of flooding in Pangasianan as well as how to create a response strategy in these events through the use of the flood contingency plan. She also presented a framework of the flood contingency planning process which is practical and easy to follow. An Orientation on the Meaning, Use and Applications of the Flood Hazard Maps followed, as well as the Flood Early Warning System and Forecast models presented by bMr. Christopher Noel I. Uichanco, Chief Science Research Specialist, Phil-LiDAR 1. He noted that areas near the river basins are most prone to flood. He demonstrated how the early warning system works using Agno river as example. This was followed by orientation on the LiDAR Portal for Archiving and Dsitributio (LiPAD) which was presented by Mr. Ken Salanio of the PHIL LiDAR 1 Data Archiving and Distribution component. He discussed how LiPAD works, what data can be found and how data can be downloaded.
 The Luzon cluster universities composed of Isabela State University (ISU), University of the Philippines- Baguio (UPB), Central Luzon State University (CLSU), University of the Philippines-Los Banos (UPLB), Mapua Institute of Technology (MIT) and Ateneo de Naga University (AdNU) gave their respective reports. Each university discussed the status of their unites including their accomplishments, issues and challenges, as well as their catch up plans to achieve their targets before the program closes in a couple of months. They tackled the status of each river basin specifically and determined exact dates on the submission of deliverables to each UP Diliman component. The UP Diliman team composing of the Data Acquisition Component (DAC), Data Validation and Bathymetry Component (DVBC), Data Pre-processing Component (DPPC), Flood Modeling Component (FMC), Data Archiving and Distribution component (DAD) and training component also gave their respective reports. All units were able to harmonize their timetables and schedules to achieve the remaining deliverables of the program. Dr. Enrico Paringit gave his closing remarks highlighting that it is high time for all the units to cooperate and collaborate in order to address the challenges ahead.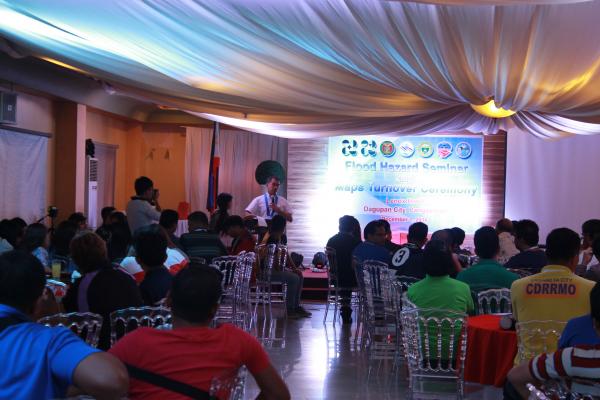 PHIL-LiDAR 1 Program Leader Dr. Enrico C. Paringit giving his opening address.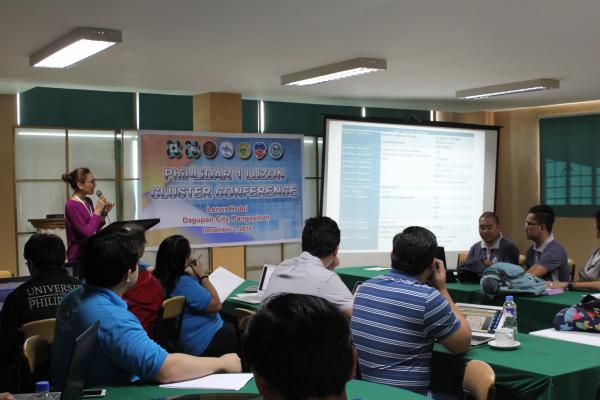 PHIL-LiDAR 1 partner universities from Luzon discusses salient points about the program.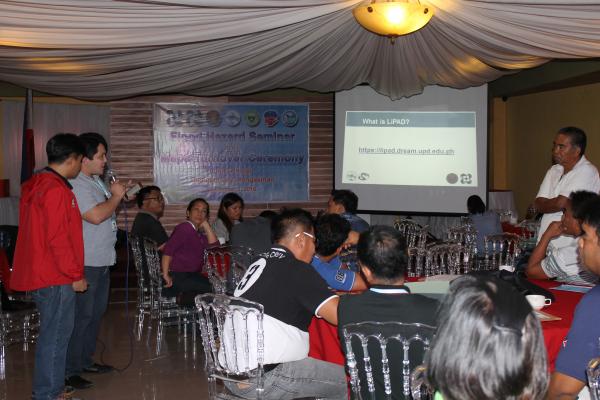 Chief Science Research Specialist of the Flood Modeling Component Mr. Christopher Uichanco explains the basics of flood early warning systems.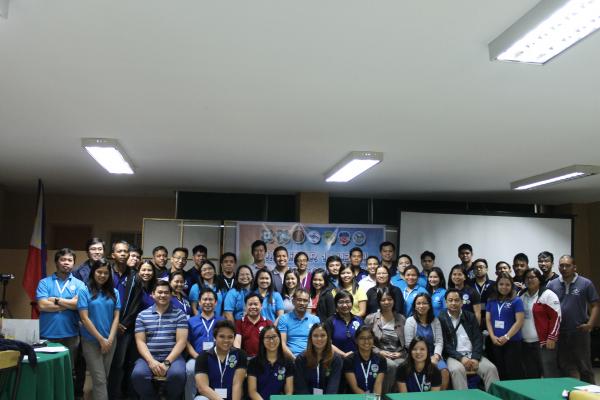 3rd Luzon Cluster Conference hosted by CLSU successfully concludes.