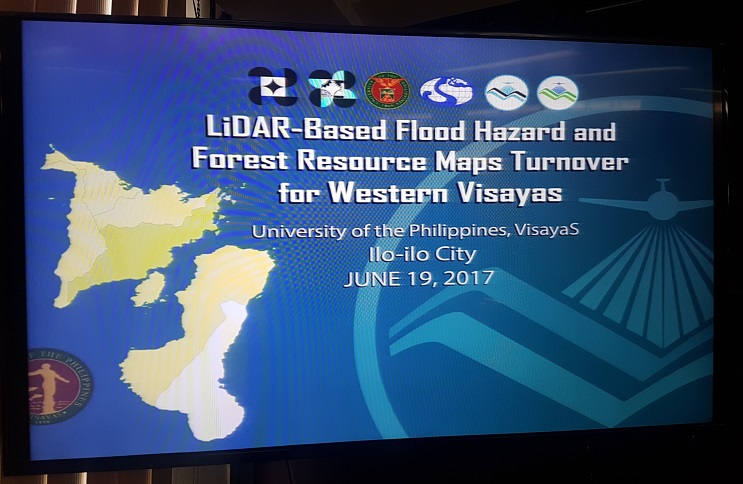 Phil-LiDAR 1 and FRExLS Turn Over Flood Hazard and Forest Resource Maps to Western Visayas LGUs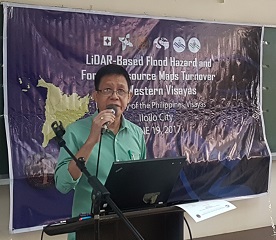 Dr. Enrico C. Paringit, Program Leader of Phil-LiDAR 1 and concurrent Project Leader of Phil-LiDAR 2 Project 3, travelled to Iloilo City last June 19, 2017 with Phil-LiDAR 1 delegates Christopher Noel L. Uichanco, Engr. Ruby Ann Marie C. Magturo, and Beau Bernardo A. Estepa and Phil-LiDAR 2 delegates For. Reginald Jay L. Argamosa and Engr. Anjenneth Palmon to conduct the LiDAR-based Flood Hazard and Forest Resource Maps Turnover for Western Visayas at the Training Room of the Graduate and Continuing Education Building (GCEB), University of the Philippines Visayas, Iloilo City.
The program started with a prayer and national anthem by Beau Estepa. Everyone in attendance was welcomed by Prof. Raul R. Olaguer, University of the Philippines Visayas Vice Chancellor for Administration. The opening remarks and rationale of the program were delivered by Dr. Enrico Paringit followed by a discussions on the Automated Water Level Forecast System (AWLFS) and DOST VI's DEWS Program (Deployment of Early Warning Systems in Disaster-prone Areas) by Christopher Uichanco, Chief Science Research Specialist of Phil-LiDAR 1's Flood Modeling Component and Ryan Vilmor J. Dumpit, Head of DOST VI's Disaster Risk Reduction and Management Unit (DRRM U), respectively.
A short coffee break followed the discussion. For. Reginald Argamosa, Senior Science Research Specialist of Phil-LiDAR 2's Project 3: Forest Resources Extraction from LiDAR Surveys (FRExLS), discussed about LiDAR Processing for Forest Resource Mapping. An open forum followed, through which questions about the difference between NAMRIA land cover and FRExLS forest classification were raised by Mr. Dumpit.
Engr. Ruby Magturo discussed the LiDAR Portal for Archiving and Distribution (LiPAD) and the End User's License Agreement (EULA) to be signed by the local government representatives. Engr. Magturo's discussion was followed by the actual turnover of LiDAR products. 15 local government units from the provinces of Iloilo, Aklan, Capiz, Antique, Guimaras, and Negros Occidental received flood hazard maps and forest resource maps which show canopy height, canopy cover, aboveground biomass, carbon stock, digital terrain, and forest cover classification.
Dr. Emelyn P. Flores, DOST VI Assistant Regional Director for Technical Operations delivered the closing remarks, acknowledging the efforts of the Phil-LiDAR Program for disaster risk mitigation and resource assessment in the Philippines. The program closed with a photo session of the Phil-LiDAR 1 and 2 teams, DOST VI guests, and Western Visayas local government representatives.