Mindanao Stakeholders Meeting Advances LiDAR for DRRM in the Region
LiDAR experts, researchers, key city and regional officials, members of the academe and major stakeholders of the PHIL-LiDAR 1 Program assembled in Davao City for a confluence of ideas that would foster the region's disaster preparedness and resilience. The PHIL-LiDAR 1 Program held the Mindanao Stakeholders Meeting in Brokenshire Convention Center, Davao City on September 8-9. 2016, while a coastal flood validation exercise in Talikod Island, Davao City was conducted on September 10, 2016. Attended by partner universities, officials from the local government and national agencies as well as members of the non-profit sector and the academe. The two-day event was hosted by the University of the Philippines-Mindanao PHIL-LiDAR 1 team.   
The first day provided a platform for stakeholders to share insights and current initiatives of the city to curb disasters. UP Mindanao Chancellor Dr. Sylvia Concepcion welcomed participants and distinguished guests who were present and emphasized the role of research is to search for truth and improve the lives of others. In line with this, the role of the research team is to save lives which may be lost during disasters. 
The welcome address was followed by a message from DOST XI Director Dr. Anthony Sales which was delivered by Mr. Eduardo P. Tesorero. He noted that the Philippines is blessed with a plethora of resources but it is also one of the most disaster vulnerable countries. He said that the country has a long way to go in terms of disaster mitigation but Project NOAH and the PHIL-LiDAR 1 program caused significant improvements including reports of zero casualties. He also added that all the efforts will not stop and that the program must continue to exploit LiDAR products, such as flood hazard maps, for the benefit of the Mindanao region. 
Mr. Emanuel Haldon, Chief of Davao's Central 911 delivered a message in behalf of Davao City Mayor Sara Duterte-Carpio. The mayor conveyed her regrets because she cannot attend the conference due to health concerns, nevertheless, her administration will prioritize watershed management, agriculture and disaster risk reduction and mitigation which require LiDAR data for effective implementation particularly on delineating lands and creating flood hazard maps that will be useful in the region. She expressed her sincere gratitude to the organizers, researchers and participants. 
Dr. Acosta also delivered a message about the rationale for the activity. He explained that the conference was conceptualized way back in December 2015. The purpose was for all the Mindanao partner universities to have a venue for monitoring their respective outputs. They coined the theme Mindanao Stakeholders Meeting: Operationalization of LiDAR data. He also said that the things to look forward in the event are the exhibits featuring the program achievements, signing of Memorandum of Understanding (MOU) and talks from distinguished guests.
 PHIL-LiDAR 1 Program Leader Enrico C. Paringit thanked everyone for keeping the Mindanao cluster solid in their commitment to the program and said that it was always a pleasure to visit the region. He noted that there is versatility in using LiDAR and its derivatives ranging from disaster mitigation and management, land use planning, as well as agriculture and renewable energy resources. A table showing the cost of disasters in the Philippines was shown and he said that the country is losing more on disasters than what is being spent on mitigation. He explained the use and applications of LiDAR and its significance in the Philippines as one of the most climate vulnerable countries. He also noted that the El Niño phenomenon which occurred last year will be followed by La Niña predicted to happen late this year. This requires the government to be prepared for the repercussions that may be caused by these events. The program will continue to work on early warning system of flood advisory using maps for disaster management.
Dr. Paringit's presentation was followed by a signing of a memorandum of understanding to establish academe-industry linkage among DOST, Davao City Disaster Risk Reduction and Management Office and the PHIL-LiDAR 1 Program. The agreement aims to yield campaign and GIS trainings, inter-agency collaboration, provision of 2D flood hazard maps and 1D flood inundation maps as well as joint development of data collection of data gathering and analysis. The exhibit that featured outputs of the program was opened after the MOU signing. 
During the afternoon session, Mr. Roy Pascua of the Department of Agriculture Region XII presented his agency's disaster risk reduction operationalization plans. The president's agenda is to provide available and affordable food for the people this is why the DA's focus is on producing high value crop to generate jobs. He highlighted their projects on El Niño recovery, rehabilitation of rice area, expansion of rice area and La Niña prevention and mitigation. The country suffers and average of 27 Billion pesos a year in agricultural damages and DA is at the forefront in finding solutions for the agriculture sector, thus, he expressed his appreciation for the program as a means to complement their efforts. 
Engr. Antonette Pasaporte of the National Irrigation Authority Region XI explain the functions and thrusts of her agency. She also elaborated the programs and projects in relation to irrigation development and the application of LiDAR for such. She noted that the current initiatives of NIA involves coordinating with barangay communities and LGUs to address disaster events as well as conducting decision making actions in a more timely manner. 
Davao City Disaster Risk Reduction and Management Office's Ms. Ma. Cristina Villegas also made a presentation on its flood risk reduction & management mechanism and strategy. She explained that their strategy for disaster mitigation includes Early Warning System (EWS) as well as installation of CCTVs, automated water level marker and weather stations. On the barangay level, Mr. Eric Monleon also gave a brief presentation on disaster mitigation of Brgy. 78-A, while Prof. Rey Tapulado presented the flood disaster plans of Agro-Industrial Foundation College located in Ecoland. Enhancing Resilience to Disaster of Urban Water System in Mindanao is the title of the presentation made by Dr. Ruth Gamboa from the University of the Philippines-Mindanao. She explained that the project aims to demonstrate the resilience to disaster of urban water systems in Davao City. She elaborated how LiDAR helps them monitor flood prone barangays, water facilities and recharge areas and highlighted that the use of such data enables Davao City to become resilient against floods.  The last presentation Lidar Portal Archiving and Distribution (LiPAD) and Intellectual property Rights presentation was given by Engr. Mark Edwin Tupas, project leader of the PHIL-LiDAR 1 Data Archiving and Distribution component. LiPAD is a website where available datasets ad documents may be accessed. Those who wish to acquire such data only need to register before downloading, and accomplish the End-users Licensing Agreement (EULA). LiPAD also serves as a platform to exchange information and catalog for data archive. It also provides standardized distribution method for all project teams. 
Before concluding, Engr. Maynard Usares summed up what the transpired during the day. A fellowship night was conducted during the evening. 
UP-Mindanao Project Leader Dr. Joseph Acosta opened the second conference day. He acknowledged the presence of all the partner universities and PCIEERD's Engr. Nelson Beniabon and Engr. Dexter Grageda and reiterated that the purpose of the event was to monitor the program's accomplishments. This was followed by a message from Program Leader Dr. Eric C. Paringit. He mentioned that the Mindanao cluster events are always looked forward to because the group exemplifies unity and camaraderie. He also gave figures on the targets and achievements of the programs and noted that these need to be validated by the end of the meeting. Ms. Klaribelle Anne Languayan from the Program's training component gave a run-down of day's activities before proceeding with the updates from the partner universities. All of the partner universities used the following template: 1) project personnel/organizational structure; 2) LiDAR coverage; 3) sustainability plan; 4) catch up plan; and, 5) other matters. Mr. Emir Epino of Ateneo de Zamboanga University, Ms. Rose Ann Barro of Central Mindanao University, Engr. Jojene Santillan of CARAGA State University, Engr. Elizabeth Albiento of Mindanao State University and Dr. Ruth James of University of the Philippines-Mindanao presented the status of their respective units. Engr. Nelson Beniabon, Engr. Dexter Gragera of PCIEERD and Program Leader Dr. Enrico C. Paringit made some comments and clarifications regarding their reports. All these were addressed by the project leaders of the partner universities. 
After the open forum, the PHIL-LiDAR 1 component chiefs reported on the progress and accomplishments of their respective units. Engr. Christopher Cruz of the Data Acquisition Component, Engr. Sarah Jane Samalburo of the Data Pre-processing Component and Mr. Christopher Uichanco of the Flood Modelling Component presented the statues of their components. Engr. Kristine Ailene Borromeo of the Data Validation and Bathymetry Component and Ms. Joyce Laurente of the Data Archiving and Distribution component also presented their units' accomplishments. The schedule of the remaining activities in the succeeding months was also presented. Lastly, Ms. Denise Ann-Marie Suarez explained the outline for the component reports and the coffee table book, as well as the national conference scheduled to be held in January 2017. Dr. Paringit mentioned that Cebu DRRMO offered to co-host the national conference. The first day will have plenary session, while the second day will feature the technical conference, presentation of papers for PHIL-LiDAR 1 & 2. The national conference will be a good opportunity for members of the program to present their innovations and 'best practices'.  He expressed his sincere gratitude for the organizers and participants of the event before closing the program. 
The team also conducted a coastal flood validation exercise in Talikod Island, Davao City on the third day. Organized by the host university, the activity enabled participants validate the work of the program through experiential learning and visiting Davao City's major waterways.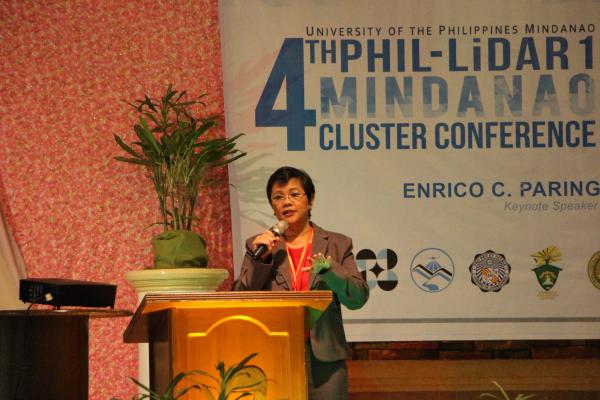 UPM Chancellor Dr. Sylvia B. Concepcion giving her welcome remarks.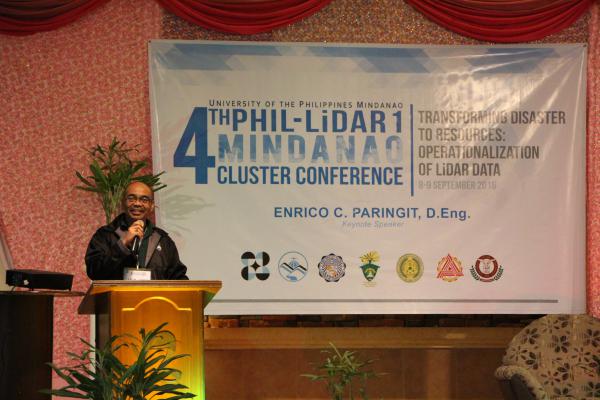 PHIL-LiDAR 1 UPM Project Leader Dr. Joseph E. Acosta.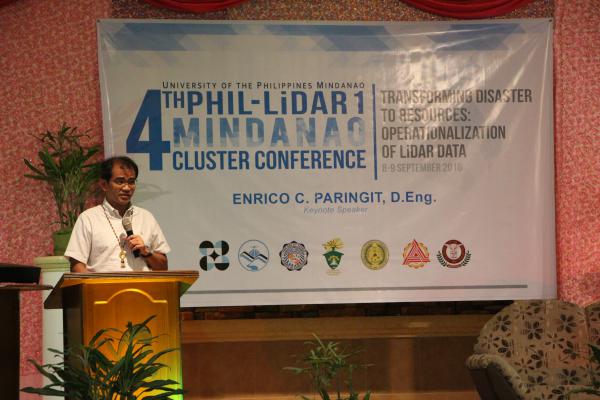 PHIL-LiDAR 1 Program Leader Dr. Enrico C. Paringit giving a presentation on the applications of LiDAR.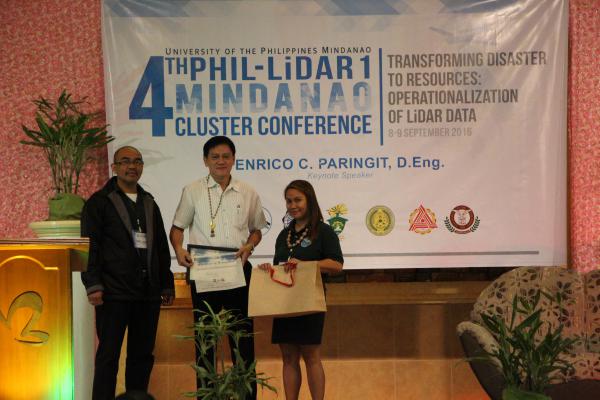 Dr. Joseph E. Acosta and Dr. Ruth James awards certificate of appreciation to Mr. Eduardo P. Tesorero.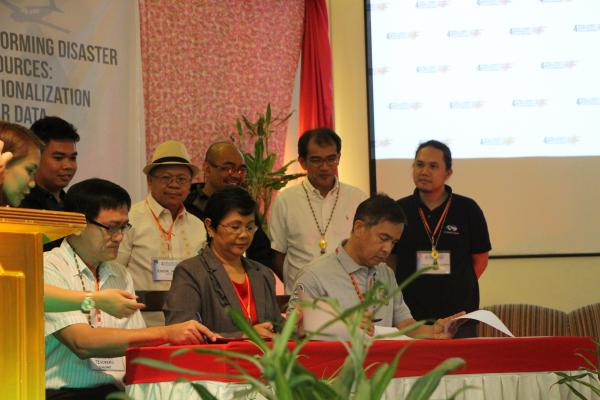 Signing of MOU (Lower Left) Mr. Eduardo P. Tesorero (DOST), Chancellor Sylvia B. Concepcion (UPM ), Mr. Emmanuel Haldon (Davao Central 911); (Upper Left) Engr. Mark Edwin Tupas (PHIL-LiDAR 1 UPD), Program Leader Enrico C. Paringit (PHIL-LiDAR 1 UPD), Dr. Joseph E. Acosta (PHIL-LiDAR 1 UPM), Engr. Nelson Beniabon (PCIEERD).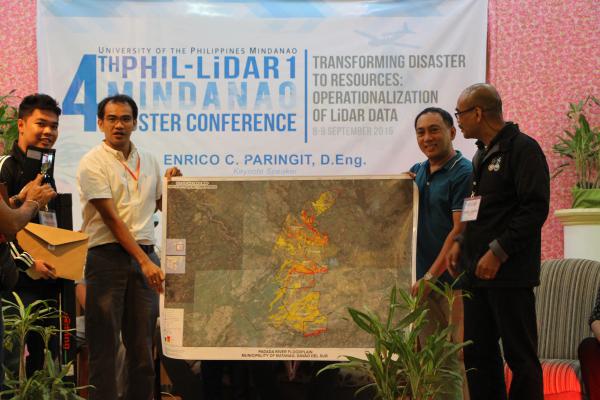 Flood Hazard Maps are turned over to city officials.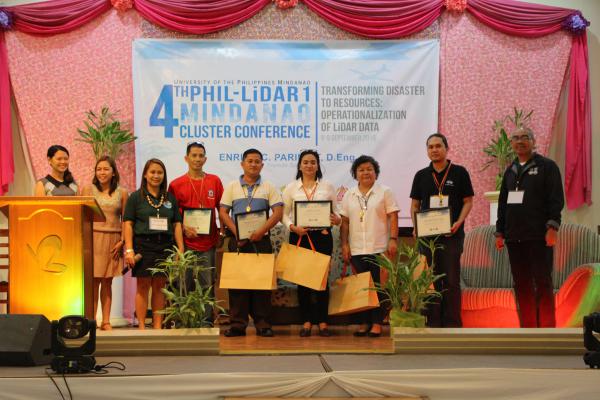 (R-L) Dr. Joseph Acosta, Engr. Mark Edwin Tupas, Dr. Ruth Gamboa, Ms. Ma. Cristina Villegas, Prof. Rey Tapulado, Mr. Eric Monleon, Ms. Ruth James with conference hosts Maui and Shin.
Dr. Ruth Gamboa of UPM discussing disaster resiliency of urban waterways.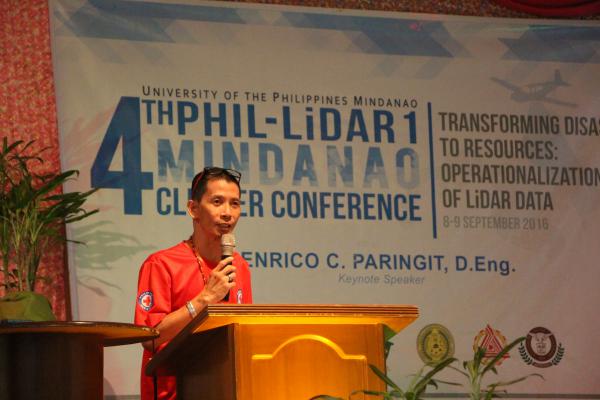 Mr. Eric Monleon discussing the DRRM of Brgy 76-A.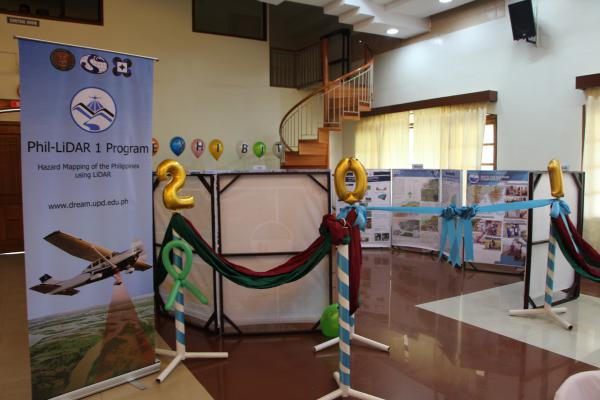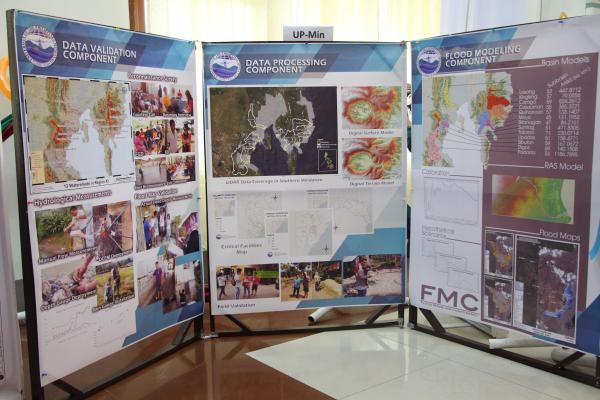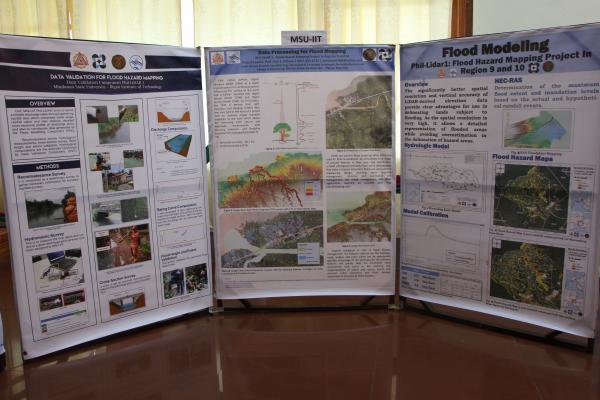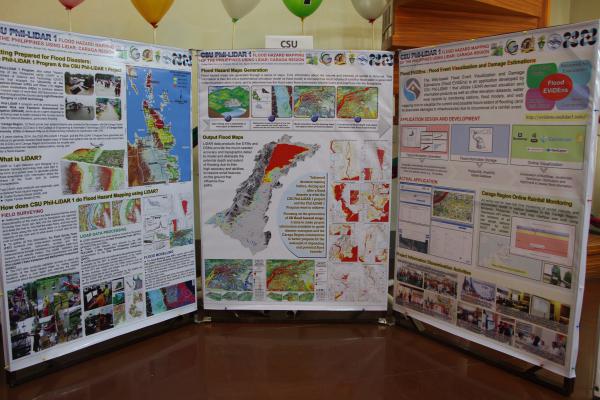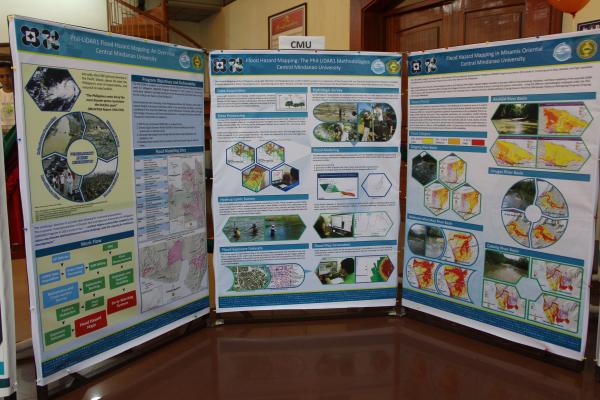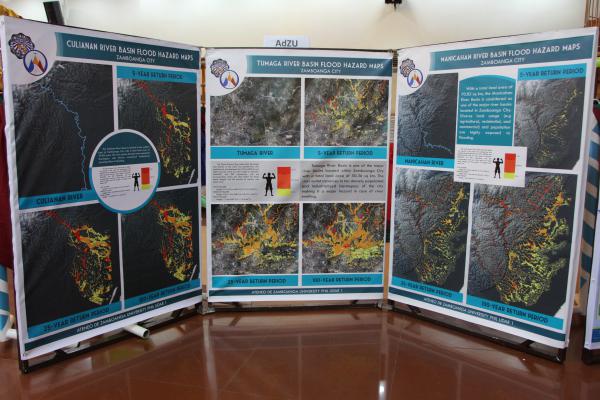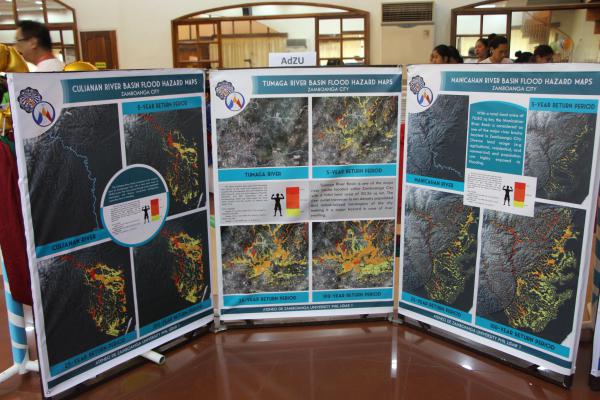 PHIL-LiDAR 1 Program exhibit.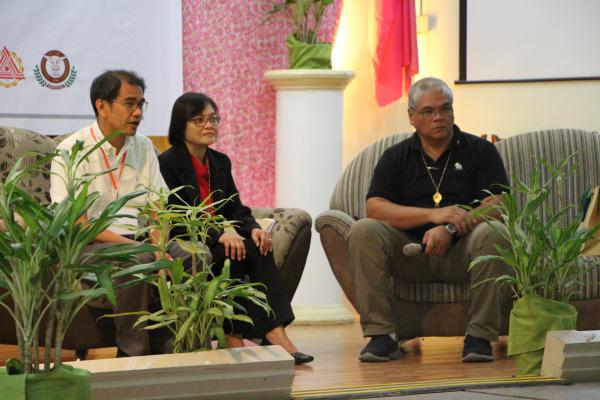 Dr. Enrico C. Paringit, Engr. Antonette Pasaporte of NIA and r. Roy Pascua of DA Region XII.
Program Leader Enrico C. Paringit.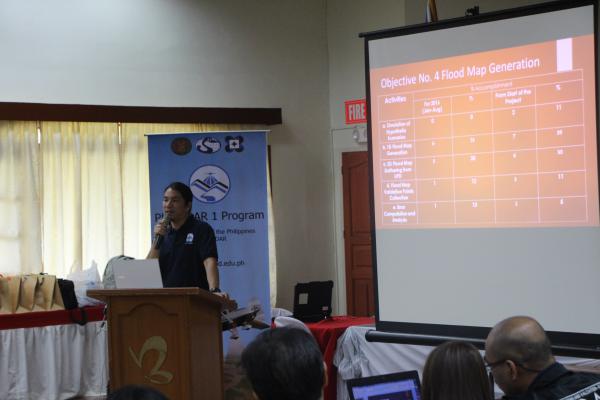 Mr. Emir Epino of Ateneo de Zamboanga University.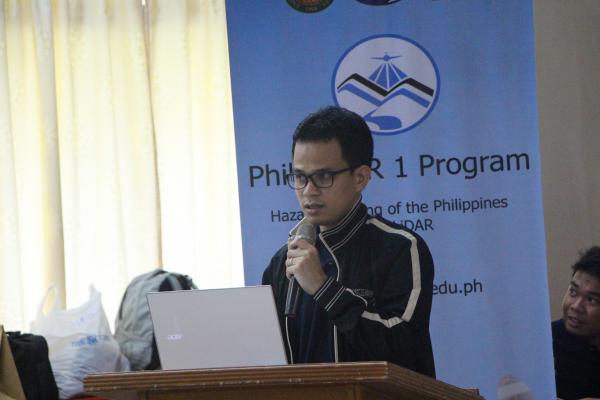 Engr. Jojene Santillan of CARAGA State University.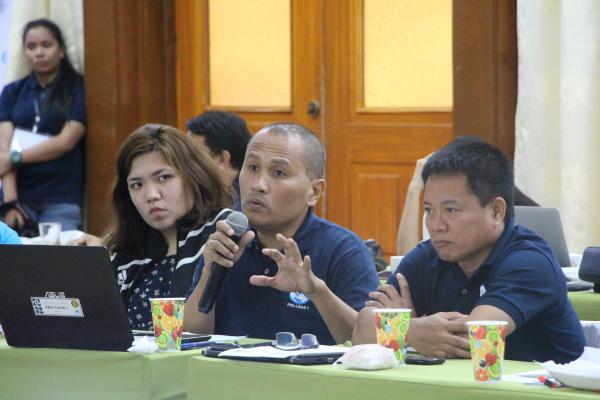 Q & A during the open forum.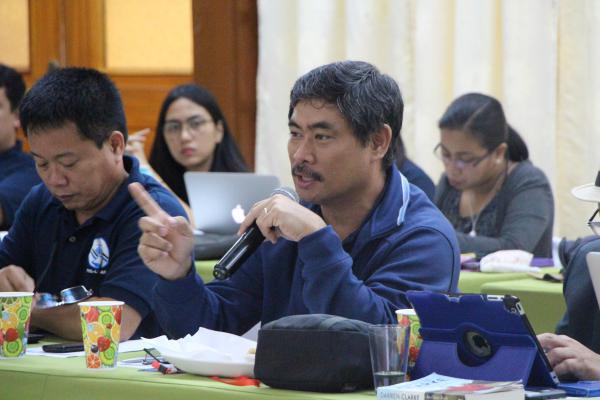 Engr. Dexter Grageda of DOST-PCIEERD.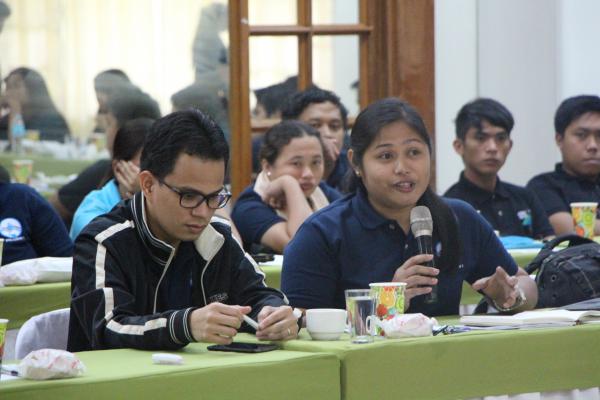 Engr. Jojene and Meriam Santillian of CARAGA State University.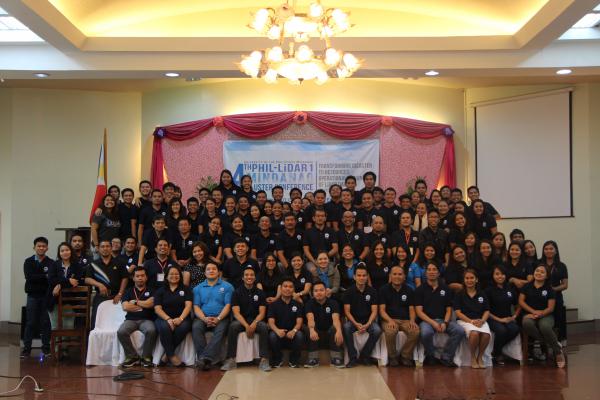 Participants of the PHIL-LiDAR 1 Mindanao Stakeholders Meeting.