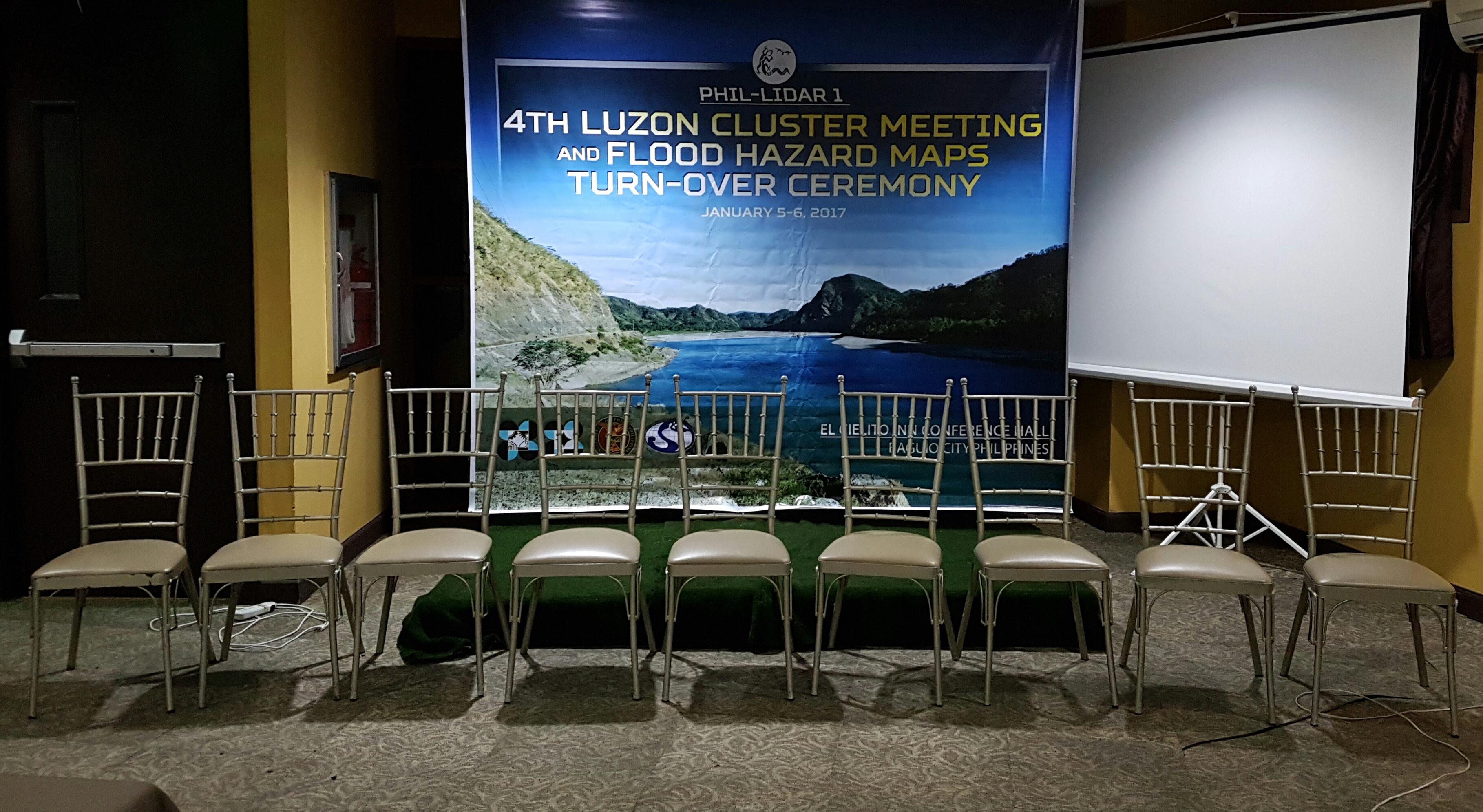 UP Baguio Phil-LiDAR 1 Turns Over Flood Hazard Maps to Region I and CAR LGUs
The Luzon Cluster of the Phil-LiDAR 1 Program held its 4th conference and flood hazard maps turnover at the Marco Polo Function Room of El Cielito Inn, Baguio City on January 5-6, 2017. The host state university for the two-day event was University of the Philippines Baguio (UPB) headed by Dr. Chelo S. Pascua, Project Leader of UPB Phil-LiDAR 1. 
Day 1 was opened by Dr. Enrico C. Paringit, Program Leader of Phil-LiDAR 1. Day 1 was reserved for the conference of the UP Diliman Phil-LiDAR 1 Components with the SUCs/HEIs of the Luzon Cluster: Ateneo de Naga University (AdNU), Central Luzon State University (CLSU), Isabela State University (ISU), Mapua Institute of Technology (Mapua IT), UP Los Baños, and host SUC UP Baguio. There are 51 attendees from Phil-LiDAR 1 Luzon Cluster SUCs/HEIs.
The agenda of the conference was to update the cluster on the progress of the SUCs/HEIs with regard to digital elevation model (DEM) processing, feature extraction, data validation, flood modeling, and flood map generation. 
Partner state universities and colleges (SUCs) and higher education institutions (HEIs) presented their updates as follows: 
AdNU by Richmund Saldo and Fidel Pante,
CLSU by Gloria Ramos and Eleazar Raneses,
ISU by Mar Yanos,
Mapua IT by Fibor J. Tan,
UP Los Banos by Gillian Katherine L. Inciong, and
UP Baguio by Ma. Rebecca S. Soriano. 
In the afternoon session of DAY 1, the UP Diliman Phil-LiDAR 1 Components presented to the cluster their progress with regard to respective catch up plans, future conferences and data turnovers.
               The UP Diliman Phil-LiDAR 1 components presented their updates in the following order: 
                                Data Acquisition by Christopher Cruz,
                                Data Validation and Bathymetry by Joemarie Caballero,
                                Data Post Processing by Harmond Santos,
                                Flood Modeling by Christopher Uichanco,
                                Data Archiving and Distribution, by Ruby Magturo, and
                                Training Component by Denise-Ann Suarez.
All presentations were followed by an open forum.  The conference was closed by Dr. Pascua. 
On Day 2, everyone was welcomed by Baguio City's Planning Officer Engr. Evelyn. B. Cayat (representing Baguio City Mayor Mauricio Domogan) after the opening remarks of Dr. Pascua. The morning session of Day 2 was reserved for lectures on map appreciation, LGU access to the DREAM/ Phil-LiDAR 1 and LiPAD websites, and the possible applications of LiDAR data to various LGU mandates and functions. 49 LGU representatives (17 from La Union, 6 from CAR, 15, from Ilocos Sur, and 11 from Ilocos Norte) along with the 51 Phil-LiDAR 1 representatives attended the Flood Hazard Maps Turnover Ceremony.
Dr. Paringit was introduced by Dr. Pascua as the keynote speaker of the Flood Hazard Maps Turnover Ceremony. Included in Dr. Paringit's keynote speech are the five (5) ways how LiDAR-derived information contributes to Disaster Risk Reduction and Management: preparation, early warning & response; development of mitigating infrastructure; spatial planning; proper management of resources; and risk transfer.
On the development of mitigating infrastructure, Dr. Paringit said that LiDAR-derived information can help assess inundation areas in their current condition (without improvement projects) and future condition (with improvement projects) and can help LGUs choose among disaster mitigation options: structural or non-structural and preventive or responsive solutions.
Dr. Paringit cited rice cultivation as an example for using LiDAR-derived information for spatial planning and proper management of resources. With LiDAR data, LGUs can properly zone agricultural land for rice cultivation based on flood inundation and also estimate economic losses using simulated scenarios (taking into consideration the growth stage of rice crop, the duration of flood, and the year-flood return).
He also presented to the LGUs the 3S Goals for Resilient Communities: Safety, Security, and Sustainability. LGUs should be able to identify safe areas for habitation and production and pinpoint evacuation areas in times of disaster. The development plans of the LGUs should ensure that the welfare of future generations is not compromised. Dr. Paringit urged the LGUs to be proactive, get involved, coordinate, invest, and capacitate.
Following the keynote speech were two short lectures by Ruby Magturo of the Data Archiving and Distribution Component and by Christopher Uichanco of the Flood Modeling Component.
The actual turnover of the flood hazard maps happened in the afternoon session of Day 2. Each representative from the provinces of Ilocos Norte, Ilocos Sur, and La Union delivered a message after the turnover of flood hazard maps to LGUs of their respective provinces. One of them is Dr. Mauro A. Libatique, Jr., the Provincial Planning and Development Coordinator of La Union.
The rivers mapped by the UP Baguio Phil-LiDAR 1 Program are: Abra, Amburayan, Aringay, Bacarra, Baroro, Bauang, Buaya, Ikmin, Laoag, Quiaoit, Silay, and Tineg. On behalf of UP Baguio Phil-LiDAR 1, Ms. Rebecca Soriano thanked the LGUs that lent equipment and provided accommodation and transportation that ultimately contributed to the program's success.
Following the turnover were presentations by Mr. Michael John C. Maquiling of DOST Region I and Ms. Hansi Dinumla of DOST Cordillera Administrative Region.
The 4th Luzon Cluster Conference and Flood Hazard Maps Turnover Ceremony was monitored by DOST-PCIEERD (Philippine Council for Industry, Energy and Emerging Technology Research and Development), represented by Ms. May-Rose B. Parinas, Ms. Ariane G. Jaraplasan, and Mr. Benjie Villanueva.