Top DA Officials Meet with PHIL LiDAR Head
Department of Agriculture (DA) looks forward to use LiDAR products to advance its mandate of food security for all Filipinos. In a transition meeting held at the National Engineering Center, UP Diliman attended by both incumbent and incoming key officials from the DA, Program Leader Engr. Enrico Paringit presented how the LiDAR technology works and explained the value of LiDAR products in disaster and El Niño preparedness. He encouraged the operationalization of data through a strengthened government-academe linkage because these data provides sufficient evidence to support policy making and implementation. 
Department of Science and Technology (DOST) Asec. Raymond Liboro explained that, with the program's technological achievements, the next challenge would be how to make the technology relevant to end-users such as the local government units (LGUs) and other line agencies. 
The DA Philippine Rural Development Project (DA-PRDP) through its Geomapping and Governance Unit presented and demonstrated their geo-tagging software that identifies soil suitability in municipalities all over the country. This was followed by a series of discussions with the incoming DA officials on how to integrate the two technologies in accordance with the Duterte administration's agenda.
Newly appointed DA secretary Manny Piñol said that his plans for the Department includes creation of a "color-coded" map that identifies soil type, climatic condition and river systems; a comprehensive national rice sufficiency program; assessment and review of existing irrigation systems, and; identification of water sources for agriculture.
He said that both the existing program of DA and the PHIL-LiDAR 1 should be integrated to address the data requirements of the incoming administration's food security agenda. He enjoined Mr. Samuel Belarmide of the DA's Geomapping and Governance Unit and Engr. Paringit to meet and discuss how to move forward with an integrated plan on utilizing both technologies.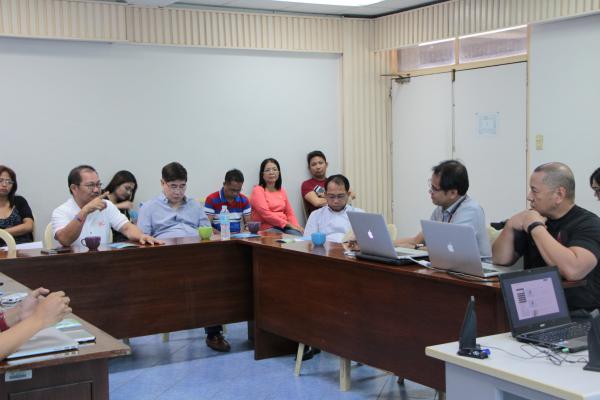 DA Secretary Manny Piñol discussing the Duterte administration's agenda on food security.